About us
About us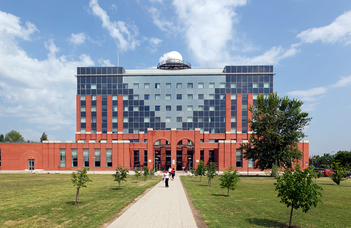 Eötvös Loránd University (ELTE) was founded in 1635 in the city of Nagyszombat by Cardinal Péter Pázmány as a catholic university for teaching theology and philosophy. In 1777 the University was transferred to Buda, and in the second half of the 19th century it developed into a centre of modern higher education, covering many disciplines. In 1950 it was named after one of its professors, the world-famous physicist, Loránd Eötvös. Today Eötvös Loránd University is internationally recognised and has strong professional connections all over the world. The diplomas issued by the university are acknowledged worldwide, and its course credits are transferable in all countries in the European Union. The university offers more than 50 foreign language programmes in various disciplines at all academic levels. Students arrive from all over the world to attend these programmes.
"If you want to understand THE WORLD. . ."
This is the motto of the Faculty of Social Sciences at Eötvös Loránd University. All our programmes allow students to gain a better understanding of the world and equip them with the knowledge needed to make the world a better place.
The Faculty of Social Sciences:
is a Faculty of Eötvös Loránd University, which is almost 400 years old and the most famous and most popular university in Hungary;
offers a range of courses which cover the entire spectrum of the social sciences;
places emphasis on both theoretical and empirical approaches;
offers high-quality academic and practical training courses;
has links with various international universities and institutions;
gives students a head start on the Hungarian and international job markets and prepares them for a career in academia if they wish to pursue this route;
has friendly and helpful lecturers who view students as partners.
To read the greetings of our dean, Gábor Juhász; and to learn more about our programmes and institution, download our faculty brochure here.
Science
ELTE Faculty of Social Sciences is the country's largest social science education centre with numerous internationally-renowned and widely-published faculty members guaranteeing the highest possible level of teaching. Our school – besides having strict academic requirements – has an open and collegial atmosphere where students enjoy studying. The staff's readiness and willingness to help makes our institution a truly inspiring and stimulating environment.

We have a Faculty with outstanding professional knowledge, and we know exactly what kind of employees employers look for on the job market. The researchers and professionals who teach our courses make every effort to incorporate the results of research in the humanities and natural sciences, to back up theory with practical approaches, and to go beyond skills development to inspire students to think critically, to seek constructive solutions, and to have an open worldview.

We recommend our courses especially to those who wish to enhance their knowledge in the field of social sciences or who wish to specialise in a narrower field of study within it. We also welcome students with various scientific backgrounds who provide significant added value to all that is taught at our Faculty.
Location
ELTE's Lágymányos Campus, home to three ELTE Faculties including the Faculty of Social Sciences, is located on the bank of the Danube in the Southern part of Budapest, with other universities and research institutes situated nearby. The modern building is in a peaceful location which is accessible for people with disabilities.
Community
Tolerance and openness are the core values of our Faculty. The programmes that go beyond pure academic study (festivals, film clubs, discussions and debates) provide students with the opportunity to get to know each other's cultural backgrounds.

Students participating in our English language programmes not only receive an internationally- recognised degree, they also enjoy the benefits of being a member of the ELTE community. These include sporting opportunities at our sports facilities, the services of the country's largest university library, and numerous other benefits.
Our faculty in numbers
Our programmes:
Our people:
~2000 students
100+ academic staff, 70% of which has academic rankings
50+ support staff to ensure smooth integration and academic experience for students
Since foundation (2003):
~6000+ bachelor's and master's degrees awarded
200+

PhD

degrees awarded
We are proud, as:
~70% of our students kick-start their careers on the labour market within 1 month after graduation;
60+% of our students get the possibility to start working / participate in projects fitting their academic profile during university years;
70+% of our students are satisfied with their jobs.
International networks:
~150 Erasmus+ contracts signed
~120 Erasmus+ partner institutions
~170 exchange students per semester
~300+ international students from 5 continents