Open Day of the MA Programs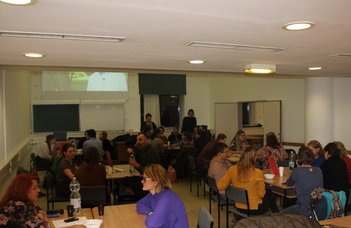 On October 20, 2021, the Faculty of Social Sciences organizes an MA Program Expo/Open Day for those students who are interested in applying to any of the Faculty's MA programs in 2022 (or later).
All MA programs will have booths, where MA students and lecturers will be expecting guests. Guests will be free to chat with those representing the MA programs—to ask questions regarding the curriculum structure, career opportunities related to the program, as well as the scholarship and grant opportunities offered by the Faculty.
Do not hesitate, come to this academic rapid dating event and decide for yourself what MA program you find the most attractive!
In English, the following MA programs are available @ the Faculty of Social Sciences:
Where?
ELTE Faculty of Social Sciences (Faculty Council Room 0.100C)
1117 Budapest
Pázmány Péter sétány 1/A
When?
October 20, 2021—from 4. p.m.
---
Please note that wearing a mask is mandatory!