Sport and Culture at ELTE
Sport and Culture at ELTE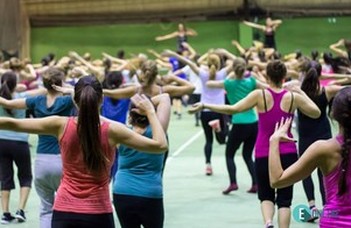 Cultural opportunities
WeLoveBudapest.com (in English) offers a lot of information about Budapest (sightseeing, museums, cafés, restaurants, clubs, shops, services etc.) with fresh articles
Erasmus Student Network ELTE (ESN ELTE) offers various programs especially for incoming Erasmus students of ELTE.
The Faculty of Social Sciences often organizes lectures, talks, movie nights, conferences in English language. You can find these on our homepage (News and Events section).
Sport at ELTE
The University Athletics Club (BEAC) was founded in 1898 and was one of the very first Hungarian sports clubs. The primary concern of BEAC is to provide quality, professional sports facilities for ELTE students and young people in Budapest. Since its foundation members of the University Athletics Club have won 5 Olympic and 400 Hungarian champion titles.

BEAC has several facilities across the city but closest to the Campus is the Bogdánfy Street ELTE Sports Camp and BEAC Court. BEAC Court offers the following facilities for ELTE students: running track, plastic covered track, gym, sports hall (suitable for tennis, badminton, football, basketball, handball and volleyball), indoor tennis court, outdoor bitumen pitch (suitable for handball, basketball and football) and outdoor tennis courts.
Departments of BEAC
aerobics and cheerleading
athletics
table-tennis
climbing
fitness
futsal
speedminton
martial arts
basketball
football
rugby
volleyball
chess
recreational sport
orienteering
hiking
badminton
triathlon
waterpolo
Do sports for credit
Physical Education and Sports Center organizes sport courses that students of the university can attend for univesity credit points. This means that students can apply for these sport classes just like all the other courses in their study programme. 6000 HUF is required to pay per course per semester.
Sports usually available in Neptun:
Athletics; Aerobics; Cheerleading; Futsal; Chess; Hiking; TRX; Belly dancing; Running for beginners; Bicycle tours and Night Bike; Goju-ryu karate; Conditioning; Football for women; Special racket sports: tamburelli, speedtamburelli; Aikido; Muay thai; Running for advanced; Functional training; Rowing; Basketball; Spinning; Badminton; Floorball; Lacrosse; Table tennis; Musical gymnastics; Swimming; Triathlon; Volleyball; Kung-fu; Northern european dances; Modern jazz dance; Road bike; Climbing; Orienteering; Brazilian jiu-jitsu.
Trainings organised by sport-scholarship holders
Trainings organized by university sports club ELTE-BEAC means the other line of the sports opportunities. The sports club organizes and keeps trainings in over 30 different sports. For currently organised trainings, check out the English-langue page of BEAC.