Doctoral School of Sociology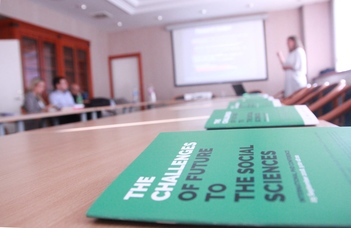 The Doctoral School of Sociology was created in 2000 under the leadership of Dénes Némedi by bringing together the Sociology doctorate launched by Tibor Huszár in 1993 as part of the previous institution and the doctorate in Social Policy run since 1995 by Zsuzsa Ferge, the first of its kind in Hungary. The School currently offers three study programmes. In addition to the two other programmes, the Interdisciplinary Social Research programme was launched in 2009 under the leadership of György Csepeli. The high standard of our doctoral training programmes is down to the Faculty's teaching staff, who have acquired a broad range of experience both at home and abroad and who are recognised domestically and internationally for their work.
Students must complete 240 credits during the course of their doctoral studies. Credits can be awarded for three main activities: for courses taken, for research (which includes consultations with the supervisor, publication and attending academic conferences) and for teaching. Our doctoral programmes aim to expand students' academic knowledge, to teach students research methods and to develop students' research and teaching skills. When working on their research topics, students will be supervised by one of the scholars who created the School. During their studies, students can engage with the wider academic community by fulfilling their publication duties and attending academic conferences. The Doctoral School and the teaching programmes regularly organise students' conferences, which give talented students the opportunity to present their research results and develop their academic skills.
All students are expected to be familiar with and apply the results of international research. For this reason, our doctoral programmes require students to have advanced language skills in at least one foreign language. High-achievers will have the opportunity to take part in research programmes abroad as a result of the University's international agreements and the supervisors' extensive connections outside Hungary.
Programmes available in English:
Programmes available in Hungarian:
Management:
Antal Örkény, head of the Doctoral School of Sociology
Papp Lorand, scientific secretary
Office hours: Monday 9:00–16:30, Tuesday–Friday by appointment
Length of the programmes: 4+4+2 semesters
Study modes: Full-time education, part-time education or correspondence education
Finances: limited number of state scholarship available, tuition fee
Requirements: university MA degree in social sciences, enrolment interview, study plan (see details in the menu)
Language requirements: Evidence of sufficient proficiency in English to be able to read English academic literature, to write academic papers in English and to participate in English-language courses: a copy of the certificate of English language proficiency and the results/scores (TOEFL, IELTS, GRE, etc.) equivalent to the Council of Europe's Common European Framework of Reference Level B2 or above.