Doctoral School of Sociology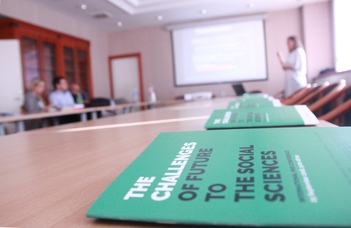 The Doctoral School of Sociology was created in 2000 under the leadership of Dénes Némedi by bringing together the Sociology doctorate launched by Tibor Huszár in 1993 as part of the previous institution and the doctorate in Social Policy run since 1995 by Zsuzsa Ferge, the first of its kind in Hungary. The School currently offers three study programmes. In addition to the two other programmes, the Interdisciplinary Social Research programme was launched in 2009 under the leadership of György Csepeli; while the International Studies programme was established by Balázs Majtényi in 2020.
The high standard of our doctoral training programmes is down to the Faculty's teaching staff, who have acquired a broad range of experience both at home and abroad and who are recognised domestically and internationally for their work.
The structure of the doctoral training changed in 2016. Since then – instead of 6 semesters –, it lasts 4+4+2 semesters including the dissertation period.
Students must complete 240 credits during the course of their doctoral studies. Credits can be awarded for three main activities: for courses taken, for research (which includes consultations with the supervisor, publication and attending academic conferences) and for teaching. Our doctoral programmes aim to expand students' academic knowledge, to teach students research methods and to develop students' research and teaching skills. When working on their research topics, students will be supervised by one (or more – depending on the research interest of the student) scholar. During their studies, students can engage with the wider academic community by fulfilling their publication duties and attending academic conferences. The Doctoral School and the teaching programmes regularly organise students' conferences, which give talented students the opportunity to present their research results and develop their academic skills.
All students are expected to be familiar with and apply the results of international research. For this reason, our doctoral programmes require students to have advanced language skills in at least one foreign language. High-achievers will have the opportunity to take part in research programmes abroad as a result of the University's international agreements and the supervisors' extensive connections outside Hungary.
Profile
Doctoral Council responsible for the training: Doctoral Council for Social Sciences Reseach Field
Branch of science: Social Sciences
Research Field: Sociology
Type of issued academic degree: PhD – Sociology
Master program accepted as entrance requirement for the PhD program: Sociology, Survey Statistics & Data Analytics, Social Policy, Social Work
Founded in: 2000
Personnel responsible for the doctoral training
Gábor Juhász – Assistant Professor, Dean
Tamás Rudas – Professor, Head of the Doctoral School, President of the Faculty Doctoral Council
Core members
Ildikó Barna
György Csepeli
Nikosz Fokasz
Balázs Majtényi
Éva Orosz
Antal Örkény
Tamás Rudas
Judit Takács
Members of the Doctoral Council for Social Sciences Research Field
President: Tamás Rudas – Professor, Head of the Doctoral School, President of the Faculty Doctoral Council
Core members: Prof. Antal Örkény, Prof. Em. Éva Orosz, Prof. Em. György Csepeli, Prof. Nikosz Fokasz, Prof. Balázs Majtényi
External members: Gábor Péli DSc, Julia Szalai DSc
Student delegate of the Doctoral School