Doctoral School
Doctoral School of Sociology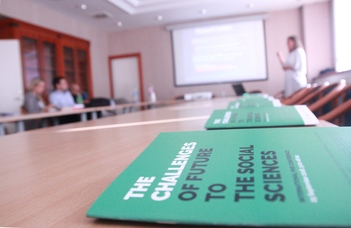 Mission statement
The Doctoral School of Sociology at the Faculty of Social Sciences, Eötvös Loránd University, Budapest educates researchers, lecturers and professionals according to the international standards of excellence in postgraduate education and prepares them for careers within or outside of academia in their home countries and internationally.
By the end of their doctoral studies, the students will be able to observe and examine social phenomena and their interconnections in their cultural and historical contexts, economic and societal embeddedness, as well as in the diversity of their possible methodological approaches.
Students will have to prove their ability to conduct individual research resulting in innovative solutions, present their findings internationally according to the standards of scientific communication and apply their results for the benefit of society.
The Doctoral School welcomes every student, lecturer and research topic, and will not discriminate on the basis of ethnic or cultural background, political views, disability, gender identity, self-expression or sexual orientation.
---
Dear Colleagues, dear Students,
The so-called anti-pedophilia law passed by the Hungarian parliament yesterday blurs the distinction between pedophilia (when minors become victims of sexual violence) with homosexuality and the personal choice or definition of gender (where it is about mutual agreement in two people's partner selection or a person's right to self-determination and there are no victims). The law is therefore suitable for stigmatizing and inducing hatred against social groups. We know from historical experience the dire consequences of hatred exacerbated by political-legal means against an identifiable group of the country 's inhabitants.
We also know from historical experience how quickly stigma, exclusion, and hatred induced in society — especially when the school system and media are also used as means to promote them — can infiltrate the field of social sciences.
Therefore, as the leaders of one of the largest Hungarian doctoral schools training social scientists, university lecturers and experts, we would like to make it clear that this will not happen in our doctoral school. As before, we continue to welcome all students, faculty members and supervisors, whether or not they belong to the LGBTQI community, and we shall not apply any preferences or dispreferences as to the choice of LGBTQI research topics.
Budapest, June 16, 2021

Tamás Rudas
Head of the Doctoral School of Sociology
Faculty of Social Sciences, ELTE
Éva Orosz
Head of the Social Policy Doctoral Programme
Antal Örkény
Head of the Sociology Doctoral Programme
György Csepeli
Head of the Interdisciplinary Social Research Doctoral Programme
Balázs Majtényi
Head of the International Studies Doctoral Programme
---
Profile
Doctoral Council responsible for the training: Doctoral Council for Social Sciences Reseach Field
Branch of science: Social Sciences
Research Field: Sociology
Type of issued academic degree: PhD – Sociology
Master program accepted as entrance requirement for the PhD program: Sociology, Survey Statistics & Data Analytics, Social Policy, Social Work
Founded in: 2000
Personnel responsible for the doctoral training
Csaba Prónai – Assistant Professor, Dean
Zsombor Bódy – Professor, Head of the Doctoral School, President of the Faculty Doctoral Council
Core members
Ildikó Barna
Péter Bodor
Zsombor Bódy
György Csepeli
Nikosz Fokasz
Balázs Majtényi
Renáta Németh
Éva Orosz
Antal Örkény
Tamás Rudas
Judit Takács
Members of the Doctoral Council for Social Sciences Research Field
President: Zsombor Bódy – Professor, Head of the Doctoral School, President of the Faculty Doctoral Council
Core members: Prof. Em. György Csepeli, Prof. Em. Nikosz Fokasz, Prof. Balázs Majtényi, Prof. Em. Éva Orosz, Prof. Antal Örkény, Prof. Em. Tamás Rudas
External members: Gábor Péli DSc, Judit Takács research Prof. of TK
Student delegate of the Doctoral School