Outgoing mobility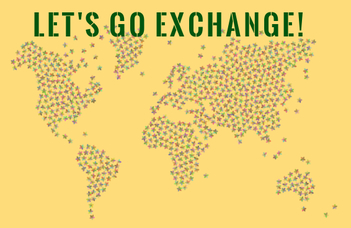 If you are an international student enroled on a full degree program (traineeship abroad after graduation is open for Stipendium Hungaricum and Scholarship programme for Christian Young People students as well) at ELTE and want to be an exchange student abroad,
these pages
are for you. We have collected the study abroad opportunities available for ELTE students who are interested in studying one or two semesters as exchange students at a partner university of ELTE abroad.
The current calls for applications are updated continuesly this page. Here you can read more details about Erasmus+scholarship.
Erasmus+ scholarship
Within the Erasmus + mobility framework, it is possible to partake in study and internship mobility programme.
In case of study mobility, you are entitled to choose from these partner institutions. Applications should be submitted onto the NEPTUN platform AND to the International Office via e-mail during application period.
In case of internship mobility, applications can be submitted continuesly to the International Office via e-mail, also after the call for application.
Obligatory documents
application form
motivation letter and study plan
CV
transcript of records of previous semesters (issued by Academic Registrar's Office)
copy of degree (if you are an MA or PhD student)
certificate of language knowledge
for non-Hungarian students: copy of the registration of permanent residence permit or the copy of the residence permit or the copy of the refugee status
for students applying to traineeships: Letter of Acceptance / Letter of Admission (the host institution/company issues to the student)
Optional documents
certificate of active participation in the Student Union or any other organization (HÖK, ESN, OTDK stb.).
For students applying to the United Kingdom, North-Macedonia, Serbia, Turkey: Consent to data transfer to third country