Special Order of Faculty Support Services from March 13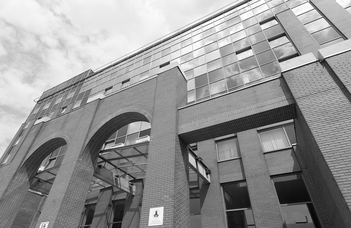 Doctoral School
Due to the pandemic situation, the ELTE Doctoral School of Sociology's administration's office is closed until further notice. You can reach the office via e-mail or phone:
from Monday to Thursday 8:30 am–4:30 pm,
All documents—other than invoice requests, which must be posted to the Doctoral Scool of Sociology, addess: 1117 Budapest, Pázmány stny. 1/a, 7.90—can be scanned/phone-scanned and sent electronically to doktori@tatk.elte.hu. Students are expected to save the original copy of the scanned document and hand it to the administrators when possible.
The distance learning will start on March 23rd, please contact your teachers with questions regarding this.
Dénes Némedi Faculty Library
The personal customer service will be suspended for students from March 12, 2020 at the University. The Faculty Library has issued the following infobrief related to the available services after March 12.
Therefore, the Library will be closed for an indefinite period from March 12, 2020. Our online services will continue to be available.
If you have any questions, please contact us at konyvtar@tatk.elte.hu.
Academic Registrar's Office
Based on the order issued by ELTE Epidemiological Operative Coordinating Body on March 11 2020, personal customer service is not available for students. The administrative issues of students, prospective students and alumni can only be arranged by electronic means. You may contact the Registrar's Office during office hours via email or the telephone number.
Students (active, passive or those who have completed their studies) may fill in request forms concerning any issues (except for those problems which need standardised request forms) and submit them through the Neptun system (Neptun/Administration/Requests – "TáTK request 2020").
Certificates will be sent out in a scanned form (and the original will be posted if necessary).
International Office
From March 13, in the International Office, client support will continue via phone and e-mail. The office can be reached from Monday to Thursday between 8:30 am 4:30 pm; as well as on Friday from 8:30 am to 2 pm.
Practical information and links
Please follow the continuously refreshing content on the below sites.
Institutes & departments
From March 13, in the institutes and department offices, client support will continue via phone and e-mail in office hours.