Conference on Transboundary Waters in IR (TWIR)
15 Years After "Hidden Theories, Troubled Waters"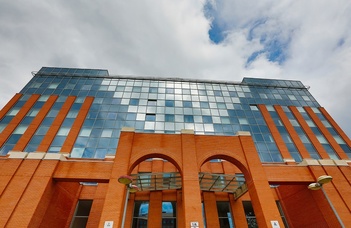 The Institute of Political and International Studies, ELTE Faculty of Social Sciences organises an online conference between April 26–28, 2021, titled
Mixing Water and International Relations Theory: Frameworks for Transboundary Water Analysis.
Speakers of the Keynote Panel:
Mary Durfee, PhD, Michigan Technological University, US
Kathryn Furlong, PhD, University of Montreal, Canada
Aysegül Kibaroglu, PhD, MEF University Istanbul, Turkey
Filippo Menga, PhD, University of Bergamo, Italy
András Szöllősi-Nagy, PhD, National University of Public Service, Hungary
The aim of this interdisciplinary conference is to review and evaluate the process of theorizing transboundary water relations in the past 15 years, putting a specific emphasis on the question of how the application of IR theories has contributed to the understanding and the management of transboundary waters in practice during this period. It also intends to bring together the members of the "global water community" to reflect on the present state of theorizing transboundary waters, contributing to the further evolution of the related discourses in IR.
Programme and book of abstracts (PDF)
Please, note that due to unforeseen circumstances there are some recent changes in the programme, which appear in the online conference programme, underlined.
---
Date: April 26–28, 2021.
Venue: Online (MS Teams)
Organizer: Institute of Political and International Studies,
Faculty of Social Sciences
, Eötvös Loránd University, Budapest, Hungary
Contact person:
Kinga SZÁLKAI,
PhD, Assistant Professor
Contact e-Mail:
info.twir@tatk.elte.hu
Application for speakers: Registration closed.
Application for attendees: Registration closed.
Registration fee: There is no registration fee for the conference.
Calendar:
• January 5, 2021 – Call for applications open
•
March 15, 2021 – Deadline for submitting applications (for speakers)
• March 22, 2021 – Information about selected applications
• April 9, 2021 – Conference program available
•
April 26-28, 2021 – The Conference takes place
---
15 years have passed since Furlong published her article in Political Geography, drawing attention to the fact that the application of IR theories in transboundary water analysis is "implicit and unacknowledged", which means a significant constraint for research programs. In their answer, Zeitoun and Warner also admitted that the importance of the explicit integration of political theories "cannot be said to be truly resonant yet" in the global water community.
In the period of 2006-2008, the connections between IR theories and transboundary water analysis were problematized rather intensely, and, since then, although in a less frequent manner, theoretical accounts on transboundary waters are being published from time to time. Some approaches managed to establish themselves in the water community, while others came and went out of fashion quickly. Today, it seems, the theory of hydrohegemony occupies the central position in theorizing transboundary waters, and its mainstream position is rarely challenged. What is the reason for the success of hydrohegemony? Does this success mean that the water community managed to address the issues raised 15 years ago?
On the other hand, IR theories offer a much more diverse range of possible frameworks for analyzing transboundary waters. Several scholars have been working on the utilization of grand theories such as Realism, Liberalism, and Constructivism; applied Marxist, postcolonial, and gender-based lenses; or used the various approaches of de/securitization, hydropolitical complex theory, water nationalism, environmental peace, game theories, theories of water diplomacy, global public health, or complexity theories to analyze and understand water relations. How do their ideas reverberate nowadays? After all, did the water community manage to make its theoretical presumptions explicit? And what may IR scholars learn from their counterparts theorizing transboundary waters in other related fields and disciplines?
Application
Please read the privacy notice.
Application for speakers: Registration closed.
With the conference program, a book of abstracts will be published electronically. By sending their abstracts, all authors agree to the publication of their abstracts by the organizer on the conference website.
We plan to collect the contributions in an edited volume published by an international publishing house. After the conference, the authors of selected topics will be invited to submit full papers (3000–4000 words).
Application for attendees: Registration is closed.
Supported by the ÚNKP-20-4 New National Excellence Program of the Ministry for Innovation and Technology from the source of the National Research, Development and Innovation Fund.