Apply to ELTE, Faculty of Social Sciences!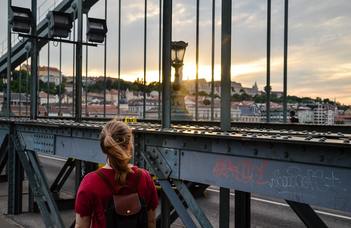 Welcome to ELTE University, Budapest, Hungary! ELTE Faculty of Social Sciences is the largest university hub in Hungary specialized in social sciences.
Our English-language study programs are available on Bachelor's, Master's, PhD levels. If you are interested in studying social sciences, and looking forward to an exciting university experience in one of Europe's trendiest capitals, learn more about our program portfolio.
Why ELTE, Faculty of Social Sciences?
Our university, ELTE—founded in 1635,—is the oldest, largest, and leading university in Hungary with an extensive international student community. Our faculty:
offers a wide range of programs which cover the entire spectrum of the social sciences;
places emphasis on both theoretical and empirical approaches;
offers high-quality academic and practical training;
is deeply embedded in international research and academic networks;
gives students a head start on the Hungarian and international job markets and prepares them for a career in academia if they wish to pursue this route;
has friendly and helpful lecturers.
Our Programs
By clicking on the program names, you can learn more about the curriculum, application process, and requirements of the given program. However, if you wish to consult someone from the university in person, register via the OUR REGISTRATION PANEL (https://tatk.elte.hu/REGAPP2022), and ask your questions in person via Skype/MS Teams.
The application deadline for all programs is April 30, 2022. We suggest you register for a consultation at least 2 weeks prior to the deadline, so that you'd have sufficient time to prepare your application package.
Science Leads Us
ELTE Faculty of Social Sciences is the country's largest social science education center with numerous internationally-renowned and widely-published faculty members guaranteeing the highest possible level of teaching. Our school—besides having strict academic requirements—has an open and collegial atmosphere where students enjoy studying. Our Faculty is a truly inspiring and stimulating environment.
We have a Faculty with outstanding professional knowledge, and we know exactly what kind of employees employers look for on the job market. The researchers and professionals who teach our courses make every effort to incorporate the results of research in the humanities and natural sciences, to back up theory with practical approaches, and to go beyond skills development to inspire students to think critically, to seek constructive solutions, and to have an open worldview.
Why Budapest, Hungary?
We are located in the heart of Europe, in Budapest, Hungary. Budapest is a safe and diverse city offering the best experience—culture, community, easy and cheap air-links to major EU cities—that a university student may desire. Budapest has a vibrant international/expat community—wherever you come from, you can be sure to find your own crew to hang around with.
Community
Inclusivity and openness are the core values of our Faculty. Our extracurricular programs (festivals, film clubs, discussions, hikes, and debates) provide students with the opportunity to get to know each other's cultural backgrounds.
Students participating in our English language programs not only receive an internationally-recognised degree, they also enjoy the benefits of being a member of the ELTE community. These include sporting opportunities at our sports facilities, the services of the country's largest university library, housing, and numerous other benefits.
Reach Out to Us!
If you are interested in learning more about our university, study programs, and the application procedure; or you have some questions you'd like to ask us, book an appointment for a personal consultation. Register via via the OUR REGISTRATION PANEL (https://tatk.elte.hu/REGAPP2022), and we will get in touch with you and propose some appointments for consultation.
Before registering, please read the following provacy notice.
Lágymányosi Campus, Faculty of Social Sciences
Lágymányosi Campus, Faculty of Social Sciences